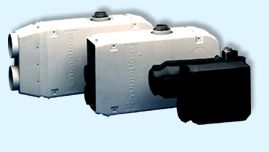 Truma LPG heating systems lengthen the season on the water. The comfort-conscious skipper knows the value of having pleasant temperatures below deck.
A Trumatic E boat heating system heats, ventilates and dries out your boat cleanly, quietly and economically. The integrated fan is fitted with a flexible duct system for selective heat distribution. Also available for vehicle applications.
ECONOMICAL
Every Trumatic E works with the minimum current consumption, so it is extremely kind to your batteries (e.g. Trumatic E 2800 set on half heat, about 6 watts). Thanks to the high level of efficiency, up to 97% of the energy is used.
The built in thermostat keeps the temperature regulated according to the wishes of the skipper and his crew. All that you need to do is select the required room temperature and operating level on the control panel.

SPACE SAVING
With housings in tough plastic and optimum heat insulation, the Trumatic E offers a trouble-free installation.
EASY TO USE
The control panel with its integrated thermostat is located in the cabin.
RELIABLE AND QUIET
Another pleasing feature is the system's super-quiet operation. The powerful fan can hardly be heard when it is operating. This guarantees the whole crew a peaceful night's sleep. The reliable operation of the Trumatic E is a matter of course. LPG burns with practically no residues, so there are no maintenance costs or periods when the boat has to be taken out of operation.
DIFFERENT MODELS
The Trumatic E is available in three different versions, the E 2400, E 2800 and E 4000. Each model can be supplied for connection to either a 12v or 24v supply. Installation can be either in the cabin or outside using the appropiate model.